Vital Village leaders listened to what community members had to say.
After a 40-hour training—lecture-style, with daily homework and a final exam—for people who wanted to become lactation counselors, participants pushed back; they said the training was arduous and inflexible for volunteers who were also juggling jobs and family responsibilities.
So the leaders of Vital Village Community Engagement Network, located in Boston, tried again. They found a new partner, Reaching Our Sisters Everywhere (ROSE), whose trainers could lead a shorter workshop focused on equity and inclusive of people with a range of experience.
They revamped the training application, adding questions about the languages participants speak, their skills—social media expertise, community organizing or advocacy, for instance—and their availability to volunteer.
"A big part of our learning was failing forward," says Renée Boynton-Jarrett, a pediatrician and founding director of Vital Village. "What we have learned is that we need to have a consistent process for ongoing improvement and one that engages community voices in a very intentional way."
In a quick poll conducted during a webinar with Mobilizing Action for Resilient Communities (MARC), a majority of the communities participating said their networks tried to involve people with "lived experience"—parents of children with mental health issues, residents of violent neighborhoods or adults in recovery from substance abuse. But network leaders also noted barriers to such community engagement: lack of resources, difficulty with "onboarding" processes and unclear expectations.
In Boston, Vital Village leaders realized that if they wanted service learning opportunities such as the lactation counselor training to succeed, they needed to plan ahead by arranging volunteer opportunities (the training is free to participants, in exchange for a pledge to volunteer one hour a week for six months) with staff support to help new trainees follow through.
They took the same lessons into another service learning project: trainings for volunteer social justice mediators in the community. Some participants in an initial training said they felt uneasy arranging mediation sessions and putting their new skills into practice.
So Vital Village tapped Dominique Graham (pictured above), a parent and community organizer, to be a paid coordinator of the mediation service and co-facilitate "refresher sessions" for new volunteers to role-play and gain confidence. "Having a community champion such as Dominique in a leadership role made a big difference," says Morgan Brockington, former health outreach and evaluation coordinator at Vital Village.
In Wisconsin, the Office of Children's Mental Health (OCMH), backbone organization for the MARC project, works with parent and youth members called Collective Impact Partners. These partners receive stipends for their time, along with training, preparation before team meetings and debriefing after each session.
"One of the tenets of trauma-informed care is shared power," says Joann Stephens, former family relations coordinator for OCMH. "When we think about partnering with people with lived experience, we think of them as crucibles of system change. They can develop new programs and think about how to make existing programs better."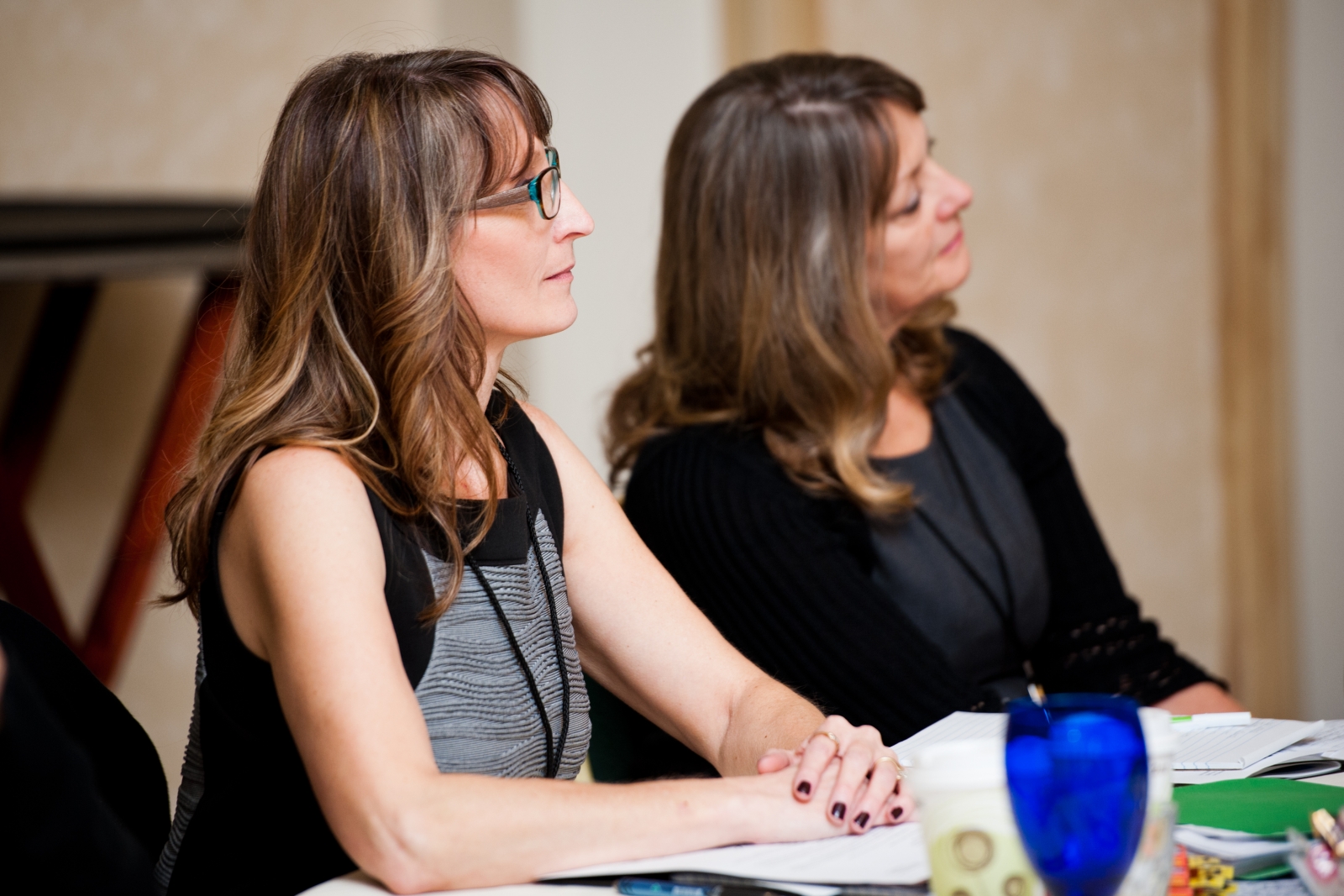 Tina Buhrow (left) and Kim Eithun from Children's Mental Health Collective Impact at the MARC kick-off convening in 2015.
Successful community engagement requires thoughtfulness and transparency, Stephens says. Leaders should outline job descriptions and time commitments, identify the skills participants should have, develop user-friendly training materials and be attentive to team-building, asking participants about their needs and suggestions.
Tina Buhrow, a Collective Impact Partner, cites OCMH leaders' efforts to "demystify the language" with a document listing common terms and more constructive ways to talk—for instance, "person recovering from substance abuse" instead of "addict"—and their efforts to meet the needs of visual learners like herself as well as those who absorb information by reading everything in detail.
"I really appreciated the opportunity, when [Joann] brought us to the table for the first time, to learn everyone's story," she says. "We can collectively bring those stories to make positive change in the state of Wisconsin."
When community members are engaged in the work of resilience-building, the learning goes both ways. Buhrow and others can tell state agency administrators how theories of trauma-informed care actually play out in practice; in turn, she recalls a meeting at which a leader of the state's Department of Public Instruction explained some self-regulation strategies for students and parents—tools Buhrow immediately brought to the schools where she serves as a crisis stabilization provider.
"If our aim is to build community capacity," says Boynton-Jarrett of Boston, "we have to equip people in the community with the skills and knowledge to effect change."
Resources:
Wisconsin's Collective Impact Partners (CIPs): The parent/caregiver and youth partners, or CIPs, bring decades of lived experience to their participation and leadership in the Children's Mental Health Collective Impact Executive Council meetings and workgroups. With their insights and guidance, state agencies and other collaborating partners are better able to recognize gaps in services, deficient programs, and unhelpful or cumbersome policies and practices. Click here to meet the CIPs and read more about their work.
Click here to get tips for engaging youth from Corbi Stephens, a Collective Impact Partner with Children's Mental Health Collective Impact.
Click here to hear Kymberly Byrd, MSW, MPH, share more about Vital Village Network's service learning model during a webinar with MARC communities on April 13, 2017.
Click here to watch Vital Village Network partners reflect on their engagement in the 2015 Social Justice Mediation Institute Training.
---
This article was originally posted May 3, 2018, on MARC.HealthFederation.org and was written by @Anndee Hochman, a journalist and author whose work appears regularly in The Philadelphia Inquirer, on the website for public radio station WHYY and in other print and online venues. She teaches poetry and creative non-fiction in schools, senior centers, detention facilities and at writers' conferences.
To read more from the MARC Shared Learnings series, visit: http://marc.healthfederation.org/shared-learnings
Title Image: Dominique Graham. Photo courtesy of Vital Village Community Engagement Network.