ADRIFT is a prosocial video game designed to teach students about the meaning and importance of consent. ADRIFT is free and can be played online in a web browser or downloaded from the App Store. Game play should take between 30 minutes or so.
ADRIFT is appropriate for all ages. Although the purpose of our Consent Game Series is to educate students about consent as it relates to sexual relationships, ADRIFT makes no reference to sex. Instead, the game uses metaphor to communicate what consent is and how it can apply in a manner which is easy to understand.
In ADRIFT the player controls an interstellar salvage crew-member exploring an abandoned spaceship. The crew-member interacts with the spaceship's AI to extract its memory core to safety. This is accomplished by the crew-member carefully following the AI's instructions - and being careful not to exceed those instructions.
Through this process the player learns the meaning of consent:
Giving and asking permission which is
informed,
freely given,
actively given, and
revocable.
At the end of the game the player is presented with information indicating when they did - and when they didn't - properly receive consent in the game. Players are encouraged to replay ADRIFT if they didn't receive a perfect score. In our experience many players do not receive a perfect score on their first playthrough but get everything correct by the second time they play!
ADRIFT goes to the museum!
Updated June 2019: ADRIFT is now part of an exhibition called Hedonism at the MOD. at UniSA from May through October 2019. For the Hedonism exhibition MOD. worked with local designers to create a life-size video game about consent based on ADRIFT. This life-sized consent game is called F.A.B.L.E. and invites museum visitors to learn about consent while they engage with a life-size video game and a companion app available for download for iOS and Android devices.
ADRIFT parent guide!
Updated April 2021: We are pleased to announce a free guide for parents for use with the consent video game ADRIFT! You can either download the single image directly below (which is designed to be printed & folded) or can download the separate front & back high-resolution PDF images from the links that are below this image.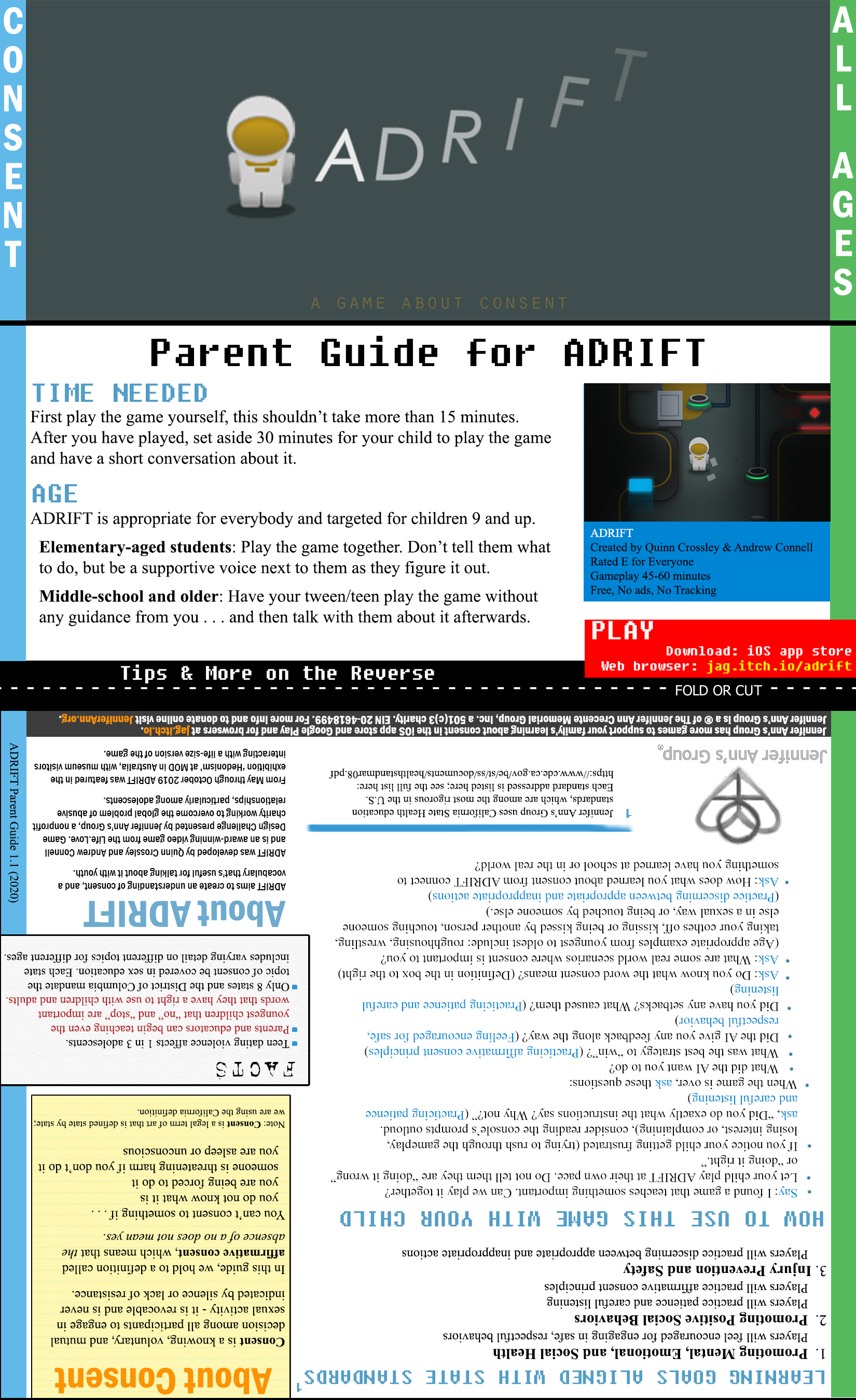 High resolution PDF files for printing the parent guide for ADRIFT:
---
To play ADRIFT online or on your phone:
in your browser
on the iTunes Store
---
ADRIFT is an award-winning prosocial video game about consent from the Gaming Against Violence program produced by Jennifer Ann's Group, a nonprofit charity. For more information about consent and more free games visit JenniferAnn.org/consent.
Please note that our other consent games are not appropriate for all ages and some do have content warnings.
---
ADRIFT
Topic(s): consent
ESRB rating: E for Everyone
iTunes age rating: Rated 4+
Content warning: N/A
Language(s): English
Platform(s): web browser (HTML5), iOS
Developer(s): Quinn Crossley and Andrew Connell, USA
Publisher: Jennifer Ann's Group, USA
Link(s) to play or download game:
Link(s) to download parent guide:
https://consent.games/resource...-guide_front_1_1.pdf (front)
https://consent.games/resource...s-guide_back_1_1.pdf (back)
---
[UPDATED January 19, 2019]
Included link to ADRIFT on iTunes for iOS (free)
Added iTunes Age Rating
Updated name of developer
[UPDATED June 27, 2019]
Included information about museum exhibition at MOD.
[UPDATED April 6, 2021]
Included information about, and links to download, the free guide for parents for use in conjunction with the consent video game ADRIFT
Minor updates to information and verbiage