In 2015, the pieces that became ACE Nashville began to fall into place.
A five-year Community Health Improvement Plan included the support of mental and emotional health as one of its three goals.
A core team of individuals from the Metro Public Health Department (MPHD), Prevent Child Abuse Tennessee and the Family Center, a non-profit focused on breaking generational cycles of child trauma, began to meet weekly.
And a citywide "consensus workshop" in April of that year—drawing 44 cross-sector leaders representing youth, healthcare, social services, hospitals, non-profits and education—grappled with the question: "What strategies can we use to implement a comprehensive public health initiative which will prevent childhood adversity, promote family resilience and improve lifelong health?"
"There wasn't any money at the table, so people came because they were interested," recalls Angie Thompson, the MPHD's Behavioral Health and Wellness Division director. That consensus workshop elicited priority areas—to promote trauma-informed care, provide parent and community education, advocate for policy change and use data to drive quality improvement—that became the work groups of ACE Nashville.
And in a purposeful twist, the ACE in that title refers not to adverse childhood experiences but to the group's vision: that All Children Excel.
Other essential ideas emerged from that consensus workshop: The group would use a collective impact process and a public health approach. "We did not want to have just a slogan or a billboard," Thompson says. "We wanted to approach this from a lens of culture change."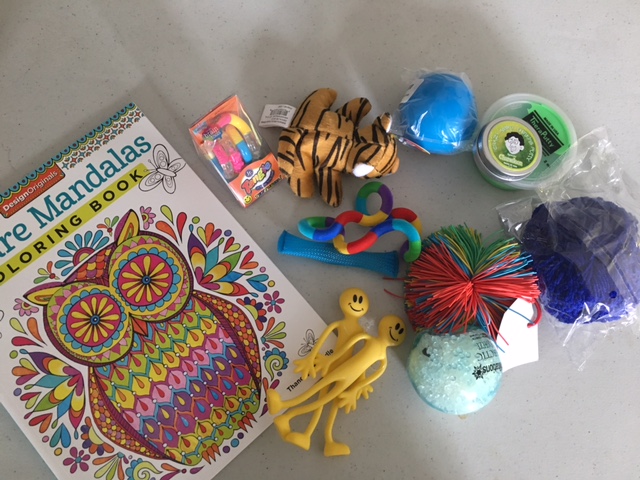 [Above: Peace corner regulation space materials. Photo courtesy of Mary Crnobori.]
At the same time, statewide leaders, with support from the Tennessee governor's office, were contracting with the FrameWorks Institute in Washington, D.C., to develop a broad messaging campaign around ACEs, trauma and resilience; ACE Nashville collaborated with that group and began to use the Building Strong Brains Tennessee curriculum in its trainings.
One of the first audiences was an affinity group of funders. "Our ask of them was: Now that you know about ACEs, you have a responsibility as funders to have ACE-informed directors, ACE-informed strategic plans, and to include in your RFPs questions around how the project will prevent or ameliorate the impact of ACEs," Thompson says.
The leaders of ACE Nashville believed that call would have a ripple effect: It meant that organizations applying for grants—their staff members, their boards of directors—would need to learn about ACEs, too.
"It was an infrastructure approach," Thompson says. "People were asking, 'What are you going to change in a year? What is your outcome going to be?' We compared it to what happened with smoking. It took well over 60 years to get to where we are now."
ACE Nashville's structure grew: from a core team to co-chaired work groups to quarterly meetings—a recent one focused on the trauma and economic impact of racism—with a mailing list of 480 people.
ACE Nashville brought the practice of consensus workshops to other groups, including one focused on suicide prevention in African American faith communities. ACE Nashville secured funding for a full-time coordinator, Kylan Hadley, who was hired in May. They worked to educate business leaders—those from large companies as well as independent mom-and-pop shops—about how quality child care affects their current and future work force, and to encourage them to expand access to affordable child-care services in Nashville, which has 139 child care slots in the downtown area but a need for as many as 4,500.
When non-profit leaders began to ask, "How do I do this work? Give me a road map," ACE Nashville partnered with the University of Tennessee College of Social work to create an online tool kit, the "Roadmap to Resilience (R2R)" to help organizations examine and change their programs, policies, environment, values, and culture to be more trauma-informed.
Throughout, ACE Nashville stayed on-message: Adverse childhood experiences are fact, not fate. No matter how old you are, you can always build resilience. Everyone has a role to play.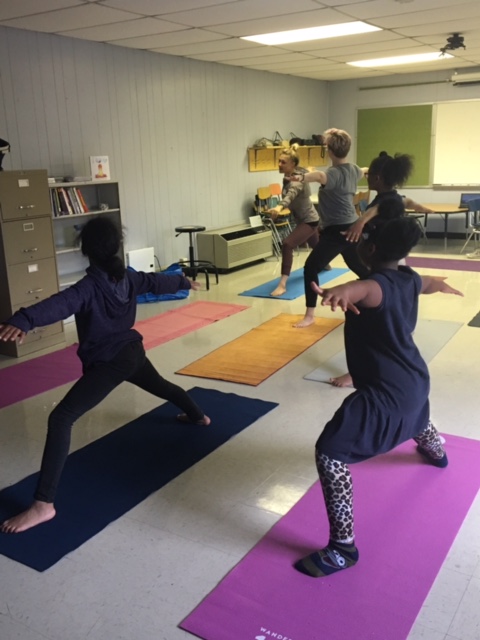 [At left: Yoga brain break in an elementary classroom. Photo courtesy of Mary Crnobori.]
Mary Crnobori, then a behavior analyst for Metro Nashville Public Schools (MNPS), attended an ACE Nashville training back in 2015 and joined its trauma-informed care work group and subsequently the leadership team. The concepts, the vision and the emerging science of ACEs aligned perfectly with her longtime belief that children's social/emotional health is foundational for learning.
She also learned from the group about the power of collective impact. So when she received a state innovation grant to create a system-wide trauma-informed plan for Metro Nashville schools, she knew the effort would need to include all stakeholders within the system: bus drivers and administrative assistants, parents and students, principals and teachers.
"I learned about multiple sectors coming together to solve a common problem," Crnobori says. "I knew I wasn't going to move the needle myself."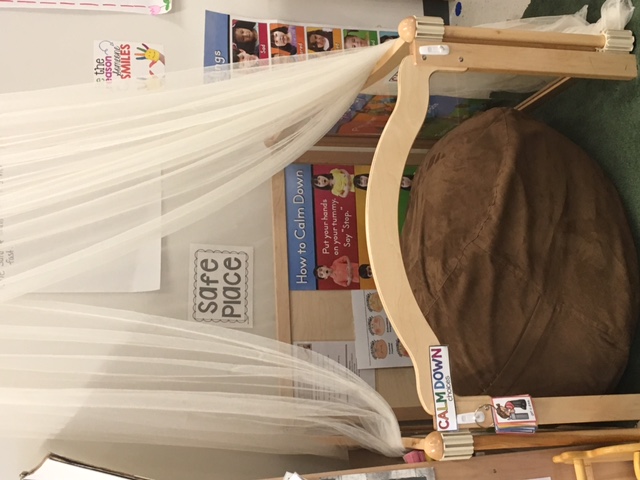 [At right: Pre-K peace corner regulation space. Photo courtesy of Mary Crnobori.]
Beginning in 2016-17 with district-wide training and one pilot school that instituted "peace corners," twice-daily stress-reduction "brain breaks" and extensive training and coaching for staff, the Trauma-Informed Schools Team has grown to include Crnobori and six trauma-informed specialists who now work with 169 schools throughout the district, including targeted support for 14 focus schools.
The team's trainings on childhood adversity and trauma-informed school practices—as well as follow-up sessions on topics including adult self-care, de-escalation and mindfulness—have reached more than 15,000 MNPS faculty and staff and over 5,000 community members, parents and students.
In addition, working in collaboration with the Metro Nashville Police Department, the team implements Handle with Care district-wide; the program provides notifications to school staff when a child has been a victim of or witness to a traumatic event outside of school.
Hadley and Thompson point to key elements of ACE Nashville's success: early engagement to educate the funding community; a unified message and a public health approach; a commitment to equity; a long-arc perspective; a belief that every individual can play a role in creating the safe, stable, nurturing relationships that help kids thrive.
"Don't wait for money to come to the table," Thompson advises. "But take advantage of opportunities when they do present. Don't expect to have outcomes with improved health indicators in two years. This is a long-term approach with incremental successes. By intervening with people to help them build resilience, that is going to impact the health of our community and our nation."
---
Anndee Hochman is a journalist and author whose work appears regularly in The Philadelphia Inquirer, Broad Street Review and in other print and online venues. She teaches poetry and creative non-fiction in schools, senior centers, detention facilities and at writers' conferences.
This article originally appeared on Mobilizing Action for Resilient Communities (MARC) on November 24, 2020. MARC provides tools and inspiration—by networks, for networks—using the science of ACEs to build a just, healthy and resilient world. Visit MARC.HealthFederation.org for more.
Title Image: Nashville during sunset. Photo by jdross75; Shutterstock ID 1037783146.