As the COVID-19 pandemic blurred from days into months, the leadership team of LAUNCH Together Southwest Denver began hearing about the sense of anguish and confusion felt by directors of early-childhood learning centers: Should I re-open? Is that financially feasible? Is it ethical? And how do I decide, in a sea of fast-changing information about a virus scientists are still struggling to understand?
LAUNCH Together SW Denver, a collaborative formed in 2016 to boost community capacity to support social-emotional wellbeing for young children, families and caregivers, pooled resources, consulted partners and developed an online decision-making tool (available in English and Spanish) that providers could use to help them decide whether, when and under what conditions to re-open private pre-schools or community-based childcare centers.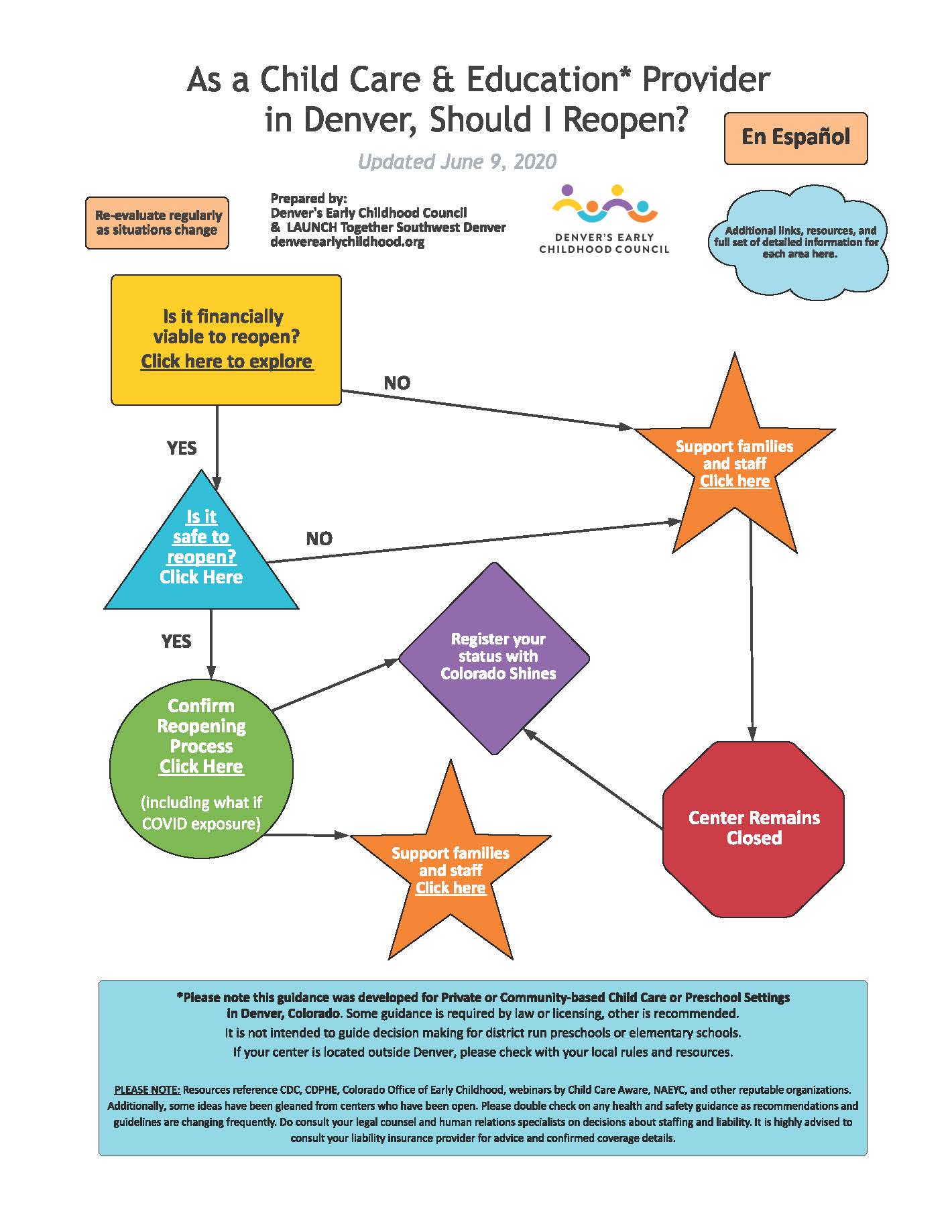 If providers clicked on the blue triangle marked "is it safe to re-open" they were led to a new set of questions: "Can we keep the same teachers with the class all day? Can we keep children 6 feet apart as much as possible?"
If they clicked on the orange star marked "support families and staff," a page would open with reminders of basic needs (food, movement, grounding/calming techniques) and resources from the Mental Health Center of Denver.
"It's a decision-tree that guides childcare and education providers through the re-opening decision and through the actual re-opening process," explains Kate Kalstein, one of five project coordinators for LAUNCH Together statewide; she oversees the collaborative's work in ten neighborhoods of southwest Denver.
"This is a great example of how LAUNCH Together has been able to bring together diverse voices and resources in response to what we hear directly from the community—it's one of those systemic alignments targeted toward social-emotional support that no one partner would have been able to do individually."
LAUNCH Together, a partnership initiative between Early Milestones Colorado—a non-profit that aims to support young children through research, policy and practice— eight different foundations, and five county partnerships involves work focused on the mental well-being of children from birth to age eight, "an under-resourced area that's critically important in early childhood," Kalstein says.
In southwest Denver, partners include early childhood educators, mental health providers, the city's public school district, a federally qualified health center and agencies that provide home visitation, parent education and wrap-around services.
"It's critical that we have an alignment of the systems that are supporting families in our community," says Kalstein. But such cross-sector work is not easy, especially when well-established organizations share the table with smaller, grass-roots non-profits. "They don't necessarily speak the same language," Kalstein says.
Early in the four-year grant period, which ends in December 2020, LAUNCH Together Southwest Denver held trainings and seminars to build community knowledge about early childhood mental health.
Now the work focuses more on building connections and capacity—through on-site coaching of child-care providers and pre-school teachers; mental health consultants who observe and work directly with such centers; a Family Leadership Training Institute and an online "Conscious Discipline learning community" that includes home visitors, parent educators and childcare providers.
In other parts of the state, LAUNCH Together's work has resulted in a new suspension and expulsion policy in Pueblo County, a centralized home visitation and referral model in Jefferson County and, in Chaffee County, a primary care practice that now involves a behavioral health care manager in well-child exams.
Art and school supplies for the kits distributed to families by LAUNCH Together Southwest Denver.
Photo courtesy of Kate Kalstein.
Since the pandemic began, LAUNCH Together Southwest Denver has responded to both tangible and emotional needs. In May and June, they distributed 500 kits of art and school supplies to families. And in the fall, LAUNCH Together will roll out an awareness campaign that underscores the value of community-based childcare and social-emotional learning, even in the midst of a pandemic.
"We want to reinforce the community understanding…that even with economic pressures, there are a number of ways children can be well-supported," Kalstein says.
A May 2020 progress report on LAUNCH Together noted some key lessons: that leadership (at every level of member organizations) is essential; that time for collaborative reflection is critical; and that building leadership capacity among local residents keeps the work relevant and sustainable.
"There is always going to be more demand than availability," Kalstein says. "And coordinating these big systems is complicated. It's not always possible to completely align. We are also supporting cultural competency work at the leadership team level this year to strengthen our ability to meaningfully collaborate."
Kalstein points to some early care and learning centers that formerly struggled with rapid staff turnover and chaotic settings; with the help of coaches, mental health consultants and training, "we've seen centers that were unstable environments become stable, with less teacher turnover.
"It has taken planning time, significant investment, relationship-building throughout the community and within the collaborative," she says. "Incremental change is still important change."
---
Anndee Hochman is a journalist and author whose work appears regularly in The Philadelphia Inquirer, Broad Street Review and in other print and online venues. She teaches poetry and creative non-fiction in schools, senior centers, detention facilities and at writers' conferences.
This article originally appeared on Mobilizing Action for Resilient Communities (MARC) on September 8, 2020. MARC provides tools and inspiration—by networks, for networks—using the science of ACEs to build a just, healthy and resilient world. Visit MARC.HealthFederation.org for more.
Title Image courtesy of Kate Kalstein.