Amanda Blackhorse has always seen Native American women fighting against injustice. Blackhorse, member of the Navajo Nation, a social worker and mother of two, served as the named plaintiff in the 2006 lawsuit Blackhorse et al v. Pro-Football Inc. Blackhorse continues to fight for justice and respect for Native Americans and is one of many Native American activists who deserves credit for the proposed name change from the Washington Football Team, formerly called the "Redskins."
Born on February 1, 1982 in Kayenta, Arizona, Blackhorse grew up in the Navajo Nation surrounded by women who fought for what they believed in. Her paternal grandmother, her "nali" in the Navajo language, resisted calls from the U.S. and tribal governments to move from her home on the Navajo Nation. Blackhorse received her associates degree from the Haskell Indian Nations University before attending the University of Kansas to pursue her bachelor's degree.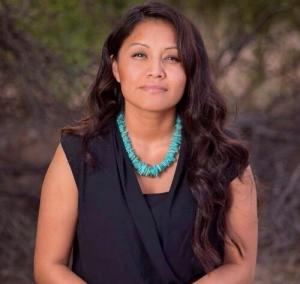 Blackhorse was aware of the hundreds of Native American mascots used by professional and school sports teams across the United States and the disrespectful and aggressive ways in which fans interacted with those mascots. Blackhorse recalled in an interview with Mother Jones that she was taught early on, "mascots are meant to be toyed with. They're meant to be pushed around and disrespected. To have stuff thrown at them." For Blackhorse, using a Native American mascot was never alright because, "no matter what your intentions are, when you make a Native American person [your mascot], you have no control over what happens at that stadium. And [Native Americans] lose control over what our image is."
While at the University of Kansas, she joined a group called Not in Our Honor that was planning a protest at a football game between the Kansas City Chiefs and the Washington Football Team on October 16, 2005. Blackhorse recalled in an interview, "we assembled peacefully and we carried signs...We carried flags for the tribes we represented, to show that we are proud people and very diverse, from many different tribes. We wanted to show that we are human beings, not mascots." Some fans from both teams did not like the message.
During the protest, fans screamed slurs and harsh comments at Blackhorse and fellow protestors including, "Go back to the reservation" and "We won, you lost, get over it!" Some fans also threw bottles at them. The protest caught the attention of Suzan Harjo, an advocate for Native Americans, President of the National Council of American Indians, and former Congressional liaison for Indian Affairs. Harjo and others had filed a lawsuit against the Washington Football Team in 1992 that had been thrown out and she was looking for a new generation to continue the fight against the team's name. Harjo recruited Blackhorse for another lawsuit.
Blackhorse et al v. Pro-Football Inc. sought to get rid of the "Redskins" name from Washington Football Team. It did so by challenging the trademark on the name on the grounds that it denigrates Native Americans. Dan Snyder, the team owner, had refused to change the name many times over the years, arguing "Redskins" was in honor of Native Americans and not a racial slur. Blackhorse and others disagreed. In 2014, the U.S. Patent and Trademark Office ended six federal trademarks on the name "Redskins," a victory for Blackhorse, the other plaintiffs, and the many people who had supported and fought to get rid of the name.
The Washington Football Team appealed, and after 11 years of court battles, both sides withdrew from the case after another Supreme Court decision rendered any further proceedings practically insignificant. Even though it is legal for the Washington Football Team to use the old name, as of July 2020 the team has decided to change its name due to political pressure and protest. Blackhorse said she is "excited" but will remain "cautiously optimistic" until a new name is officially announced.
As she fought in court, Blackhorse also received her Master's in Social Work from the University of Washington in St. Louis. She worked at the Arizona State Hospital and currently lives and works as a psychiatric social worker in the Navajo Nation. She also continues to fight against the use of Native American names and images by sports teams. She argued in an interview, "any team name that references Native Americans, I think should go. No matter which way you swing it, you as a team owner and we Native Americans have no control over the type of imagery fans are going to seize on at your games."
Photo Credit: David Wallace, The Arizona Republic